THE VINEYARDS
Julie and Frank Husic purchased their property in 1995. They quickly learned the county was preparing to pass an anti-hillside planting ordinance, and if they wanted to plant vineyards, they would have to do it immediately. Viticulturist Jim Barbour of Barbour Vineyards was hired to help facilitate this process. The permit was granted in 1996 and the vines were planted in 1997. The vineyards were planted on land never lived on before. The ground needed to be cleared, dynamited and terraced for planting the three Husic Vineyards, totaling approximately nine acres. These vineyards can never be duplicated. The Husic Family is very grateful for the beautiful land they live on, and the incredible grapes produced by their three, small, rocky, steep vineyards over looking the Stags Leap District.
The Husic's vineyards are planted with Cabernet Sauvignon grapes, and a tiny amount of Petit Verdot for blending. The vineyards go from the Valley floor to approximately 900 feet up the hillside. Some of the lower vines are planted in the "official boundary" of the Stags Leap District, and the remaining vineyards lie above the "line" of the appellation. It took four years to reach a mature crop, so the first year harvested and crushed was in the fall of 2001.
Husic Vineyards produces six wines: the estate grown Husic Vineyards Cabernet and Palm Terrace Cabernet, Husic Vineyards Chardonnay, and the Husic Vineyards Pinot Noir, Husic Vineyards Late Harvest Semillon and Palm Terrace Rosé from Pinot Noir. The Chardonnay and Pinot Noir grapes are purchased from vineyards on the "true" Sonoma Coast, near Occidental.
Mike Hirby
Winemaker
Michael Hirby grew up in a musical and creative family that had a deep love of food and cooking. At The Colorado College, he honed these skills and developed a serious interest in wine. After graduating with a degree in Philosophy, Michael worked as a Sommelier for a few years before deciding that winemaking was the next step; and after spending a few months exploring wine country in Spain and France, he made his way to Napa Valley. There he worked in the cellar with Les Behrens for 2 years, until he was hired to be the winemaker for Realm Cellars in 2002. Michael has since gone on to make wine for several different high-end projects, as well as his own brand Relic Wines, all of which have garnered consistently outstanding ratings.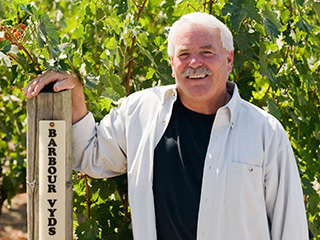 Jim Barbour
Viticulturist
Jim Barbour was raised in Napa Valley and grew up working on his family's ranch in Rutherford. With over 30 years of experience, he has become one of Napa's most respected viticulturalists. During the span of his career, Jim has developed and managed over 1,200 acres of wine grapes. In addition to Husic, he has worked with such names as Blankiet, Grace Family, Hundred Acre, DR Stephens, Pillar Rock, Revana, Pride, Amuse Bouche, Au Sommet, and Von Strasser Vineyards. He received a Bachelor of Science in Plant Science (viticulture) from the University of California-Davis.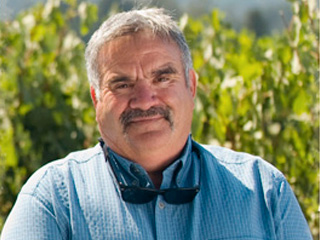 Nate George
Vineyard Manager
Nate George was born and raised in Napa and received a Bachelor of Science degree in Horticulture from Oregon State University. He has worked with Jim for over 13 years developing and managing some of the Valley's best vineyards. Prior to joining Barbour Vineyards, he worked for the Napa County Agricultural Commissioner's office for 14 years. He and his wife, Kathy George (Assistant Winemaker at Raymond Vineyards and Cellars) have two daughters, Layne and Annie.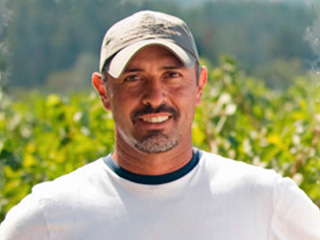 Jesus Rios
Vineyard Management
Jesus Rios was born in Llano, Michoacan and moved to the Napa Valley in 1986 where he landed a job with Burgess Cellars. He then worked at Frank Wood & Son, doing vineyard management for some of Napa's most respected vineyards. He joined Barbour Vineyards in 1991 and became a partner in 2003. He lives in Napa with his wife, Lupe, and their children, Jesus and Mayra.

Barbour Vineyards
Vineyard Management/Development
Founded in 1990 by Jim Barbour, Barbour Vineyards LLC is one of Napa Valley's leading vineyard management and development companies. Its clients include producers of some of the Valley's most sought-after wines and owners of its most highly respected vineyards. Barbour Vineyards is a full-service management company and currently maintains over 500 acres of wine grapes. It is a practitioner of responsible and sustainable farming techniques and has a rapidly growing business of clients looking to adopt organic farming practices. Jim Barbour and his partners, Nate George and Jesus Rios, work hand-in-hand with Napa's top winemakers, including Heidi Barrett, Thomas Brown, Philippe Melka, and Celia Welch to create Napa Valley's renown wines.